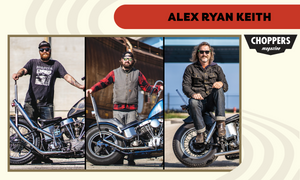 Three Amigos
There's nothing purer than friends who build old bikes and ride them together. Breaking down, scoring parts, the occasional "whoopsy" or two in the bar parking lot — building the kinds of friendships that last a lifetime, and the kinds of bikes that might not even make it to the gas station and back.
It's like the biker version of live, laugh, love. But like, bikers, bros, beer. Whatever. Y'all get the point.
Ryan Smith, Alex "Ralph" Janke and Keith Stendler are three such friends. These Milwaukee boys have been building and riding together for years, and we knew that if we were putting together a Milwaukee issue, they had to be involved in some way or another.
We reached out to them to learn more about how they get down, and they wrote back enthusiastically.
—Choppers Magazine
Ryan Smith
1950 Panhead
I've seen Ryan build a handful of bikes over the last few years, all of which seem to have found their way into this '50 Panhead. It's also the culmination of the skills and lessons from those previous bikes.
Mating an RL springer to a big twin frame is no fucking joke and a giant pain in the ass, which Ryan can attest to. Although it may look like a "dirty, crusty" chopper, all of the parts were carefully and thoughtfully assembled and fabricated.
This is hands down my favorite of the past bikes he's built.
—Pat Boyles (about Ryan Smith's bike)
Alex Janke
1958 Pan/Shovel
Ralph is a simple guy. He loves breakfast, airplanes, Arnold Schwarzenegger, chocolate chip cookies and this here '58 Pan-Shovel motor and transmission.
Over the past 10 years that we've been friends, I've seen him move this drivetrain in and out of various bikes as if he were changing a damn lightbulb. I mean, the dude is just so quick at this point.
He prefers wide glides, Invaders and stretched up frames — and that all shows in this bike. If it ain't broke, don't fix it!
—Ryan (about Alex "Ralph" Janke's bike)
Keith Stendler
1956 Panhead

Swingarm choppers are hard, man. Everyone—including myself—wants one, but you don't realize how involved building one can be until you jump in and do the damn thing.
This one here started with a '56 basket case motor, some pretty beat up split tanks, a four over wide glide and a raked out '58 drop seat frame. The front end on this bike was plug'n'play, but everything else needed some serious love.
I want to say it took a good eight months to put together and then another eight or nine months to get to where it is now — which is an extremely reliable, first-kick, trip bike. As with most of these things, it was exhausting but rewarding!
—Ryan Smith (About Keith Stendler's bike)
---