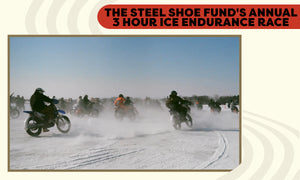 The Steel Shoe Fund's Annual 3 Hour Ice Endurance Race
Let's be honest, we Wisconsinites can get a little stir crazy when the winter silence takes over. Temperatures drop to -15 F, and all we can really do is keep our hands busy and daydream of the next dog day afternoon. But come mid-January, for a few golden weeks, we're able to pull out those studded ice tires and go riding with our pals again. And without a doubt, everyone and their neighbor starts to talk about the famous Steel Shoe ice race.
'The Original' Steel Shoe 3-hour endurance race on a frozen Kettle Moraine Lake encourages local riders to let loose and get a little wild. Since 1977, the Steel Shoe has been a leading foundation in raising money for injured flat track racers. Some people team up and split the seat time, while others brave Jeff Fredette's white desert track iron-man style.
This year we got lucky. Some 20 F and just a hint of wind. A more temperate day like this welcomed plenty of family and friends to set up camp on the ice. Clean winter-stored bikes were unloaded, and last-minute adjustments were made to suspension or jetting. It was refreshing to be with old friends again - waddling about in our many layers and layers... and layers... of clothes.
Just before noon, it was almost race time! 5 rows of meticulously built ice tires pressed up against the starting line. Spectators leaned into the crunchy snowbanks, holding their breath as the flagger drew his finger along the eyes of the racers. The moment the flag dropped, over 130 bikes tore into the ice, slinging powder to the sideline.
The first few serpentine laps were nothing short of suspenseful. Teammates eagerly kept watch for their bike to pass the pit lane and clock in on lap one, two, then three. Top riders would complete a total of 17 laps... each one becoming more rutted and slick than the last. Spectators lit their grills and wound around their own track to the bar and back to stay warm and *maybe a little bit too* fueled.
The pit lane stayed pretty busy- handing off tethers and refueling bikes. Some riders came lumbering back with broken fenders and the look of defeat before they were reminded that this is more like a community than a competition. I mean, let's be honest - anyone who is willing to take on a 3-hour ice race is a bonafide badass in my book!
As the racing ended, so did the life of the ice and water pooled under our boots. Tires were dusted off, and bikes loaded back into salt-covered trailers. Gradually the sound of bikes became an echo as we high-fived our pals, cranked the heat in the truck, and headed back home.
I think it's safe to say that the Steel Shoe broke the winter silence once again.

Words: Sophia Branen
Pics: Michael Ruminski / Cathy Drexler

https://www.steelshoefund.org
---