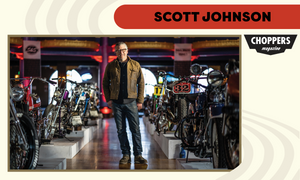 The Long Road to Fuel, Flat Out Friday and Mama Tried
We promised Milwaukee that we'd have an issue out just for you guys, just in time for this year's Mama Tried show, and hot damn if we don't intend on making it happen. If y'all are reading this, it means we kicked the ultimate ass and got it done. 
If you aren't, then… Wait… HOW ARE YOU READING THIS IF WE FUCKED UP AND DIDN'T GET THE MAG OUT? Are you a wizard? God? Is that you, God? Do they serve Schlitz in Heaven? The people of Milwaukee want to know! 
Anyway, since we're all burning the wick at both ends here at the magazine to get this issue out in time for the show, it only made sense to feature our friend and Mama Tried founder Scott Johnson somewhere in these pages. 
Scott's a hell of a good dude and his friends put on a hell of a show. So, without further ado, let's kick this shit into high gear and get movin'. Enjoy!
—Choppers Magazine
"My younger brother and I were lucky to get exposed to minibikes and BMX in the '70s, when I was kid. From there, I graduated to dirt bikes, as most of the neighborhood kids where we grew up had them, too. 
Our dad saw how into it we were and was always helping us build and fix our bikes. He even bought us a YZ80 to share when we were groms. Showing us how to do it was a pretty special gift that I took for granted at the time, but the love of bikes had its hooks in us pretty deep by then.
Fast forward to 1993. I was 26 and with my partner Leslie (and we are still business partners almost 30 years later) opened Fuel Cafe. It had a '90s punky vibe and, for some reason, lotsa folks on bikes started hanging around. 
Through friends I met through Fuel (who I'm still friends with) I got into cafe racers and started racing a Ducati single in AHRMA. Eventually, with their help, I also built my first custom — a BMW /5 with a half fairing, clip-ons, rear sets, bump seat… The whole nine yards. 
Through vintage racing (I eventually realized how inept I was at wrenching to be messing with a vintage Ducati and started racing road racing Hondas), I got into racing sidecars, and then flat track, ice racing, etc. 
Of course, the motorbike obsession fit in nicely with the cafe, and we started hanging racing photos on the walls and having bike events. The M2MTT (a Milwaukee to Minneapolis road race), The Frozen Snot Ride and Rockerbox (an outdoor motorcycle street fest) all became part of the Fuel scene.
Through that world, I met Warren and his friends. And it was through them that I fell in love with choppers and that whole scene. Jeremy (Flat Out Friday) and I had been friends from being in a band together back in the day, and he had always talked about promoting an indoor race. It just made sense to start Flat Out Friday and Mama Tried together. And it's been a blast ever since."
—Scott Johnson
Photos by David Carlo Photography and The Johnson Archives
---