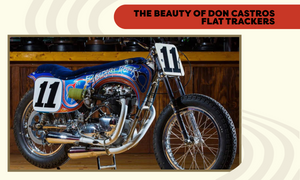 The Beauty of Don Castro's Flat Trackers
Written by Donzzilla Don Miller
Don Castro, Champion Flat Track Racer and AMA Hall of Fame Inductee, was the definition of form and function. His bikes performed amazingly well on the track and looked like they could be dusted off and taken to a concourse bike show the next day. Even with his factory Triumph ride, there was no elaborate team that magically did all of this work. Just a racer in his 20's and a few key people that wanted those bikes to stand out. Now this was the era of racers wanting to look as good as they performed on the track. All with their leathers matching their flashy painted bikes and helmets and the individualized-styled number. Those flat track riders of the 60's and 70's had branded themselves before it was a thing.
The #5 Bike is a Trackmaster framed Triumph that still looks amazing. With its mile deep candy paint, nickel painted frame and all the aluminum polished to a mirror finish. The minimalist look was an attraction for sure. If it wasn't needed, it wasn't on a flat track racer. For me as well as many other, this style of bike is what the heart wants and has been a burning desire of many.
The #11 Bike has a Red Line frame and I would have loved to have seen the reactions when this showed up at the track with that wild, one-off body work. It was designed by one of Don's sponsors, The Fiberglas Works and was put on top of the polished alloy and nickel plated frame, WOW! Just as detailed as his Trackmaster framed bike, but with that one piece body, it caused more of a commotion and stood out for sure when it rolled out on the track. Don raced the #11 bike for many years, but only once with this exotic bodywork. The AMA officials banned the body at the San Jose 1/2 mile late in 1972 while the true reason is still not known. Stories of it violating the 'slip streaming' rule or maybe just some grumpy AMA official that didn't want to see time move on. But it is a looker for sure.
I have had the #11 bike for many year and have always wondered what happened to the #5 'sister' bike from the same era. Turns out Castro himself found the bike a few years back and sold it to a collector in Las Vegas. The collector contact me and asked if I would restore it to the same condition as the #11. That was an instant yes from me. I have been friends for Don for over 25 years and am honored to preserve his history in any way I can.
I think the coolest part of having the #5 Trackmaster bike here was that this is the first time in 48 years that both of Castro's factory 750 Triumphs were in the same place at the same time. For a motorcycle history nut like me, it is the ultimate to stand there and look at these two former warriors, wondering the stories they could tell.
Here are some great videos to watch:
Don Castro's Induction into the AMA Hall of Fame (introduced by Don Miller):
HTTPS://WWW.YOUTUBE.COM/WATCH?V=MXYHRC8E_2E
Video of the #5 bike:
HTTPS://WWW.YOUTUBE.COM/WATCH?V=A2NGBNP4XQ8
Video of the #11 bike in action:
HTTPS://WWW.YOUTUBE.COM/WATCH?V=Q186F9DIKIY
---