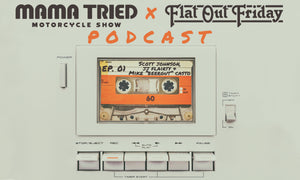 Mama Tried x Flat Out Friday Podcast is Here!!
The Mama Tried Motorcycle Show and Flat Out Friday have been happening in some form or fashion for over 8 years. While the (sometimes) shiny motorcycles are the light bulbs that bring us moths together, over the years we've seen the social aspect of the events grow into a community all its own. The conversations, interactions and social experiences take control during the week of the events, bringing an entire world to life for just a few short days to share in the love of all things two-wheeled. Endless amounts of stories created, fun times had, and new friends made.
How many times have you heard the story about that guy who hopped a four-hour flight, came into Milwaukee on Thursday, made it to the Museum then Fuel Cafe for the big blowout, then had so much fun that they didn't even make it to the Race or the Show! They just let the winds of Mama Tried gust them wherever it may. Mind you, we vastly prefer that you make the Show & Race because this thing doesn't plan itself, and we love nothing more than to see you enjoy it! But, hey, fun is fun. Wherever you find yourself during the chaos of the weekend is exactly where you're supposed to be.
It's in that spirit that we've decided to try to capture some of that magic by producing the Mama Tried Show/ Flat Out Friday Podcast. At the 2022 show on March 5th we tested this idea and were joined in great conversation live, onstage, by some great friends and guests. If your memories of the weekend are a little hazy, don't worry, we'll be sharing these conversations with you all. From the perspectives of pro flat track racers like JJ Flairty, to the hilarious banter of the chopper dynasty Rodriguez Family, to the wisdom of Warren Heir Sr., to the round table talks of The Big Truth Podcast, these episodes have something for everyone.
Next year, we'll be doing it all again live onstage. Until then, we'll be releasing new Episodes every Thursday, starting with Scott Johnson, co-founder of Mama Tried Show, catching up with JJ Flairty and Mike "Beergut" Casto. This is an absolute can't miss show that we can't wait to share with all of you!
Episodes will be available wherever you find your favorite podcasts. You can even watch the live interviews on the Mama Tried / Flat Out Friday YouTube page. Be sure to subscribe to keep up with all the latest videos!
See you all in 2023.
---