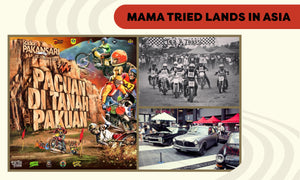 Mama Tried & Flat Out Friday Land in Asia!
Scott, Warren and Jeremy are heading to Asia this week. Follow us on @mamatriedshow and @flatoutfriday for daily updates. Don't forget to check up on the ever-changing Mama Tried Show and Flat Out Friday merch in the online merch store.
As Mama Tried and Flat Out Friday has begun to branch out internationally, to make friends, foster relationships and cross-cultural exchange based on our love of motorcycling, Indonesia has always been in our sights.
Even before the pandemic, plans had been in the works for a trip to Asia to attend Indonesia's KustomFest, and the Art of Speed in Malaysia. As the Covid curtain descended on the world in 2020 and Mama Tried / Flat Out Friday was canceled, we were hosting a range of guests from the Asian archipelago in Milwaukee to toast our friendship, love of two wheels, and to make plans for future partnerships and events.
Since the pandemic threw those plans into the wind, we are now revisiting and re-establishing those relationships with more than Zoom calls. In June Jeremy, Warren and Scott will visit Jakarta, Bali, and Kuala Lumpur to attend the TNT Cup Motorcycle Races in Bogor, and numerous shop visits in Bali and the Art of Speed in Malaysia.
We are beyond stoked to experience the style and vibe of the southeast Asian motorcycle scene. Join us on this journey of good times, discovery, and friendship as we travel to Indonesia (Jakarta/Bogor/Bali) and Kuala Lumpur!
---