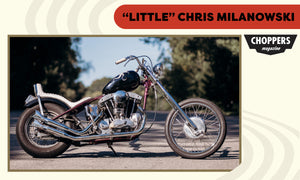 "Little" Chris Pojazdu's 1958 Sportster by Choppers Magazine
This here is Chris Pojazdu (or Little Chris, as he's known by the Milwaukee boys) and his 1958 XL Sportster. They've been together for over a decade and have had a challenging yet rewarding relationship. But aren't all first relationships like that?
Chris picked up this beaut on April 25, 2011, after some friends scouted her out on the internet and had him take a gander. All his buds were considering picking her up, but in the end, they decided the Ironhead was a better fit for Little Chris.
Chris picked up the bike from a couple towns over and immediately started rippin' it around the neighborhood, easily keeping up with all the big twins around town.
"She was a fast one," Chris says.
He later found out his little Ironhead had a secret past. Her last owner used to run her on the drag strip and the motor was stroked out to perform. Guess that s'plains it.
Through the years these two have been together, she's had some work done. Chris made her some early narrow glide Barneys-style lowers, and Her ass end was re-sculpted and hard-tailed with big twin axle plates. Chris has the motor bored and dilated out to a 1237 with a 4.375 stroke, which gives this little ripper all the "umph" she needs.
Besides that, he continues to put her back as original as possible, but his ol' Ironhead just continues to be her stubborn self, says Chris.
The two of them have learned a lot in their tremulous relationship and shared many amazing experiences.
Chris says he's probably foolish to think she'll settle down and they'll be able to please each other equally… but he ain't giving up hope.
Here's to Chris and his Ironhead — may your relationship flourish into everything your hearts desire.
—Choppers Magazine
Story by Choppers Magazine

Photos by Ken Carvajal
---