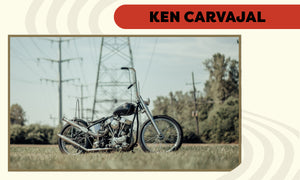 Ken Carvajal: There goes the neighborhood
SAFETY FIRST
I was living in the city of Chicago when I first thought about getting a motorcycle. I contemplated for a while due to fear of other drivers and modern distractions. But the idea of parking options and pothole maneuverability made me consider enrolling in a Motorcycle Safety class.

CAN DO
I've always had a 'can do' attitude as my curiosity overpowers my reality that often leads to re-do's, which I've learned to chalk up as a "learning process". Leading up to the Safety Class, I cut the rear half of my first bike that I purchased just weeks prior – a 250cc Suzuki and converted it into a hardtail frame. I taught myself how to weld with a MIG and pieced a rigid kit together to assemble my first 'chopper'.

The same mentality applies to my photography. It kicked off after taking my son to a mall photo studio as I was intrigued by the process and felt I can produce something similar which led to my first DSLR that I purchased used from a colleague. I studied the photographs that I've obsessed over and learned how lenses, light and composition can create unique images. I took photos of parts of my bike to review at a later time to determine whether it needs to be modified or replaced. But with my limited garage space, I was forced to shoot in weird angles, macro, prime lenses and lighting – all of which I apply to my photography today.




THERE GOES THE NEIGHBORHOOD
I quickly outgrew my first bike and bought a 1965 Triumph TR6 chopper that I rode for a number of years. But due to natural progression, I needed more – more power, more speed, more of that 'Harley sound'. The only way to accomplish that is by having a Harley Davidson, my first being a jockey shift/foot clutch 1979 Shovelhead that I briefly owned and traded for a 1987 FXR that I rode out West to Born Free 9. But something was amiss and the urge to build another old bike resulted in getting another Shovelhead, a 1974 Super Glide FXE.




I freshened the top end and built the bike with parts that I've collected over the years. It remains a swingarm to this day with a cobra seat, frisco'd/narrow sporty tank that my friend Matt Aims made for his Peoples Champ entry bike. The bike came with Lester mags which I initially planned to replace with spokes that I'm glad I kept. I've since converted it to a kick only, belt primary drive, high-mid foot pegs, 6' risers with tracker bars, etc. The fender strut is made with help from my dear friend, Rob Hultz at Bravetown. I modified a set of exhaust pipes that combined with the open dry clutch, sounds obnoxious that I'm sure my neighbors appreciate.




WHO AM I KIDDING?
I wanted to challenge myself by building a clean bike and bought a 1962 FL Panhead motor with a 1958 transmission from my friend Michael Geltz out of Keokuk, IA. I immediately purchased a frame, wheels tank, etc and completed the bike in around 9 months' time. It has heavy influences from bikes you'd see rolling around in the 60's with 16" ape hangers, 21/18 wheel combo, Hap Jones gas tank, jockey shift, and so on. The frontend is a narrow glide that I modified to run the MCM shrouds, seats by Gentry Dayton, and custom ribbed fender by my good friend Ron Befka at 7Metal West. The bike has been in multiple shows including Mama Tried 2019, Harley Davidson's No Show, Congregation in Charlotte, NC and Fuel Cleveland in OH. It's my daily that I've ridden from as far north as the Upper Peninsula of Michigan, down through the Appalachian Mountains to Canton, GA.




STARS ALIGNED
Owning a Knucklehead has been a standing joke that only I must've found amusing. It's few and far between, overpriced OR owners are often reluctant to let them go. While on a night out with my wife, I mentioned needing a Winter project. With her approval, I immediately sent feelers to friends and asked for help to keep an eye out. One of whom is Rob Hultz, a collector himself who must've sensed desperation in my voice that led him to offer to sell me one of his one Sunday afternoon. I vividly recall the end of that phone call with him saying, "congratulations, you're now a knucklehead owner". The stars aligned that following Tuesday when I brought home the core of this bike, a 1947 FL Knucklehead with a 1949 Transmission, knuckle frame, springer, original 1947 3.5 gallon gas tanks, etc.




I spent the 5 subsequent months in the garage during my free time after work and on weekends. I taught myself how to TIG weld and jumped in head first by narrowing a set of repop 3.5 gallon gas tanks and made a hand shifter out of round stock and knob from a spacer I found in my scrap pile (Original 1947 tanks are unscathed). The fender is a K-Model repop secured by a knuckle brace that I bent to fit its top radius. Wheels are 21/18 combo wrapped in Avon Speed Master tires. The Hellings style risers and clamps are by Arie Vee with 7/8 pre-unit bars, along with a Super Pratic B throttle from my good friend JT which controls the Linkert M74B. The LEE style clutch pedal is by Smalltown Speedshop out of Denmark with an inch and a half belt drive hidden in the primary. Lastly, the patina paint job is DIY with help from my son to give it its current vibe and as it sits, is a blend of inspiration heavily inspired by bikes that I've admired over the years.

I'm thrilled to have been able to fire it up and ride it around the block on my birthday. Still a few things to button up, but I'm honored to be invited to show the bike at Mama Tried in March, 2022.


By:Ken Carvajal
Email: kencarvajal@icloud.com
Instagram: @kencarvajal
---