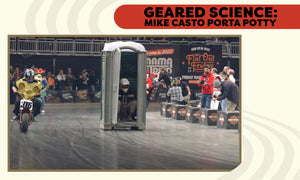 Geared Science & Lowbrow Customs- Mike Casto Porta Potty 2021
Lowbrow Customs & Geared Science have captured some magic here!! 

 Mike Casto's Port-o-Boonie racer was far from a motorcycle or mini bike in the wild and zany Goofball races, but it sure made a ton of people's heads turn, laugh and get excited. We asked the hard questions like why a sh*tter for one and how easy is it to handle. So sit back and learn a little more about this drunken idea that came to life.
---