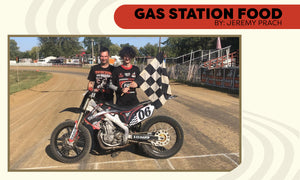 Gas Station Food
All of the time, money, almosts and mishaps were all worth it to see my boy ride the perfect race.
As a father, I tried to introduce my kids to as much of the world as possible. Hockey, musicals and fine dining are just a few of the things I tried to make stick for my son Loyal. Dave Kilkenny showed up at our house on Loyal's first day of kindergarten with a knock off Honda 50cc. Dave Kilkenny and I have been friends for almost 30 years. He knew without asking that getting Loyal a motorcycle was a must. Instantly, we all knew we had found what was going to stick. Loyal spent that fall learning to ride. By the time Spring rolled around, Loyal was ready for his first Flat Track race. Dave was not there, but he called Jack Kainz and asked that he and his daughter Charlotte show us how it all worked. Not only did Jack and Charlotte show us how the practice, heats and schedule worked, we became fast friends with them and many of the other flat track families; friendships that are still strong to this day.
Loyal spent a few years learning to race. It took some time to win. Loyals' first win happened at Aztlan. It was the last race of the year. It was a very powerful moment for us both. Loyal then moved up to a 65cc. He took the Joe Kopp School of Speed. Joe Kopp taught Loyal to calm himself before the race and to think of a word that brings you joy, his word was "Aztalan".
As Loyal was growing up, we centered our life around racing. I would take him to any kind of motorcycle race we could find within a reasonable and unreasonable distance. We would flat track first, but if it wasn't available, we would hit a hare scramble, ice race, indoor syrup race, even motocross. Loyal and I spent a lot of time camping, staying in cheap hotels, sleeping in the van and eating lots of gas station food. Loyal never really won much. He never had expensive parts. We drove to Alabama to struggle with the carburetor. The bike kept stalling at the Amatur Nationals because the gas tank breather was clogged. Most often Loyal would be cautious at the start, and try to pass his way to a last pick in a main. There were 8 years of almosts.
Racing to Loyal is not always winning. I don't mean to say he is a loser, but he is not much interested in winning. He tries to win every race, but he has such a strong sense of self-preservation. You can't win races when you are worried you might hurt yourself or someone else. When he was young, winning was all we cared about; we were hooked on trying to get a trophy. However, I realized on our 8 hour weekly drives that there is so much more to appreciate than just winning. I needed to teach Loyal that racing is a life sport. There are life lessons to be learned that far surpass just winning, such as maintaining a race machine, that foundations of body position are beautiful and that the motorcycle community is powerful.
When Loyal was of 65cc age, I drove him to Georgia for an American SuperCamp Weekend. Loyal excelled in the class. He has since taken the camp 4 more times. His vocabulary started to change. He was no longer pouting about not winning, he would ask me, "How did I look?" A successful event for Loyal was if he was using the American SuperCamp technique. He began to wonder what Danny Walker, the founder of super camp, would think about his racing.
Racing is an all day affair. Early on, Loyal and I fell into our roles just like the other track fathers and young racers. The kids would run around with each other, and the dads would fix the bikes. When the results were not to their liking, the dads took the blame. I was not going to be like that. It took me a while to realize it, but when I noticed it happening, I stopped working on Loyal motorcycles. I would find another job that needed to be done at the track. Helping in the food shack, lining up racers, or flagging a corner. When Loyal would come off the track and storm off into the tent, he had no one there to listen to his bullshit. I would always give him supportive words, ask about the gearing, the carburation, and make sure he ate, but for the most part, I was done working on his motorcycle.
Loyal was forced to find mentors to help him. Jack Kaniz has always been there for maintenance, Andy Mauk at Motoscoot here in Milwaukee took Loyal under his tutelage, and Ion Stear at 19 Cycle Works was there for horsepower. Many families were there for Loyal as well. The Lange family, the Martens and the Bruskys were always there to look after Loyal as if he were their own son.

Loyal is recently off to college, and our weekends are spent doing other things, but before he left, he rode the perfect race. It was the Flat Out Friday Takeover of Aztalan. We have been working members of the club for 10 years. I currently work at the food shack, but when Loyal is on the track, I pause service to watch. When I think he looks good, I slap his hand. When he looks bad, I tell him. There were four AA races the weekend of the takeover. Loyal looked great in practice, and in the heats, but he couldn't put it together in the mains to get to the front. Blake Lomas from South Carolina had taken the three prior. But the last AA main, Loyal, led every lap. It was his first win at the AA level.
He had an aggressive start, something he normally does not do. He had to ride a perfect race to keep Blake behind him. Blake was on Loyal's wheel the whole race. Despite the pressure, Loyal won. When I went to hug Loyal, I noticed he was crying. I then started crying. It was a powerful moment. I can only guess that he was thinking our travels were over. The times in the van are done. No more gas station food. He was proud. He knew he looked great. Plus, he did it at Aztlan, his happy place. A few people took photos of our long hug.
All of the time, money, almosts and mishaps were all worth it to see my boy ride the perfect race.

By: Jeremy Prach
---