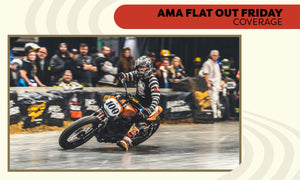 Flat Out ...On Friday by Joy Burgess/AMA
A sticky, Coke-syrup racing surface is just part of the allure.
Flat Out Friday, an indoor flat track race run on — literally — a Coke-syrup surface, has opened the Mama Tried event on Friday night since 2016. But as you might guess by the aforementioned (and sticky) description, it's not your typical flat track race.
The AMA-sanctioned event somehow brings together a race, rock show and circus into an action packed night of entertainment, with a wide range of race classes — including a JV Hooligan class, Brakeless division and even a Goofball class, which requires riders to wear a costume.
"Scott [Johnson] and Warren [Heir Jr.] asked me to help them with their show," co-organizer Jeremy Prach told American Motorcyclist, "so I asked if I could do an indoor motorcycle race."
"They say 11 seconds is all you have to hold someone's attention," he continued, "so my goal was to create an action-packed show that held people hostage."
Held at the Fiserv Forum — a multi-use arena located in downtown Milwaukee — there's never a dull moment.
"It's curated from the time you walk in," Prach said. "I have something going on every 11 seconds, no down time. And really, it's not about the motorcycles or the racing, but the people. I think we really have keyed into something authentic that people crave…a community."
The next Flat Out Friday race is scheduled for March 4, 2022, and Prach encourages new people to give it a try.
"We'll have signups open soon, and I hope new people try it," he told us. "I proudly support the AMA, and I know they have my back. When I sanction with the AMA, I can expect a higher level of behavior from participants, and they expect a higher level of service from me, which I try to provide."
Learn more at www.flatoutfriday.com.

Story by Joy Burgess
Photos by Clint Blake
---