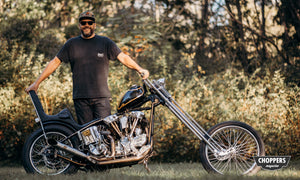 DEATH DEALER - Warren Heir Junior's 1944 E Knuckle
Warren Heir Jr. had his teeth cut for motorcycles when he was still a cub. His old man, Warren Heir Sr., ran a motorcycle shop out of the garage of their childhood home, and Heir Jr. spent time hearing stories about his father's motorcycle escapades from all his various "uncles" — friends of the family who'd always hang around the shop.
There was "Uncle" Jackson who used to sleep in the driveway from time to time; "Uncle" Lurch, a six-foot-six-inch behemoth of a man; "Uncle" Paul in the rock and roll band and even Uncle Wayne, his actual uncle, who's a grouchy som'bitch but would give his family the shirt off his back if they needed it.
"Uncle" Jimmy helped Heir Jr. wire up his first actual chopper — a pull-start minibike that he and a friend chopped up and threw crazy ape hangers on when he was a kid.
These stories, Warren explains, are what make him so grateful for having grown up around motorcycles and are the types of experiences he hopes to pass on to his children.
"I feel like growing up in a bike shop is a cool way to learn about life," he says. "As it was happening, I didn't really think about it and actually took it for granted. I now realize it was pretty special."
Part of his role in bringing that to his kids is this '44 Knucklehead. He randomly caught it on Craigslist when he first got out to MKE. The bike was from Ohio, attached in a one-liner with no photo at the end of an ad for one of those ugly fat-tire choppers: "P.S. — ask me about my knuck" the ad read.
Warren, not knowing a damn thing about it, reached out to the mysterious seller, and before long, a trucker buddy named Steamer was hauling it out to Milwaukee. Legend has it — and by "legend," we mean "literally what Warren told us" — the bike belonged to an old Hells Angel who died and left the Knucklehead to his brother, who then sold it to Warren Probably for a hell of a bargain.
The frame was already raked out, so Warren threw a 41mm narrow glide on it until his buddy Cody Davidson conjured up an OG Sugar Bear springer for him. He sent the cases out to South Dakota to get some welding from the folks at Carl's Cycle Supply. Once they were back in one piece, he had Heir Sr. rebuild the motor. Warren enlisted the expertise of the one and only Lock Baker of Eastern Fabrications out of Los Angeles, Calif. for a pipe.
A standard Wassell tank, some bars and a custom seat from Pierce Street Seat Co. and the bike was ready for paint, which he trusted in the hands of Kendall Lutchman of Kendall Painting and Fabrication.
"I barely knew the dude when I asked him to do it," he says. "Showed him the Frank Frazetta mural from the Molly Hatchet cover, the 'Death Dealer.' I had no idea how good it would turn out to be, but it makes the bike."
If you're in Milwaukee for Mama Tried, make sure to keep your eye out for Warren and The Death Dealer. They'll be lurkin'.
—Choppers Magazine
P.S. "Thanks to my lovely "Wife" Stacy and my two boys. Max & Hank for Putting up with my bullshit. Love you all."
—Warren
Story by Choppers Magazine
Shop photos by Logan Grunow
Bike photos by Ken Carvajal
---