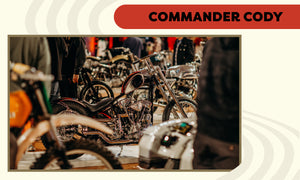 Commander Cody: The Real Deal
Just about anyone living in the Midwest will get excited when you tell them it is near 60 degrees on a Saturday in March. It's as if taking off a layer of clothes also removes the heaviness of winter weighing down on the soul. Now tell this to anyone who rides and you might as well be getting a glimpse of them in their symbolic birthday suit.
The relatively warm weather wasn't the only thing that made this 2022 Mama Tried special – nevertheless, I had to at least make some mention of the weather given moving from California, a place where talking about weather designated you as boring or foreign, to the Midwest makes you grateful for the ephemeral things in life.
It was friends and family that got me excited for the show. I had some inclination of who and what I was expecting to see - but per usual with Mama Tried, serendipity always makes an appearance. At Mama Tried, friends and family appear in different forms. Some people are there in the flesh, some make themselves present in conversations passing, and others in an even more extravagant yet subdued fashion - in the work of a bike itself. 
I caught wind that some friends from Southern California were traveling to Mama Tried so I expected that I'd see at least a few riding buddies at the show. But it wasn't until I showed up to Flat Out Friday that I realized how many of them came out to Milwaukee. A posse of dudes I've ridden and attended runs with were sitting right in front of me taking in the mayhem. Heck, if that Dr. Pepper soaked concrete oval was a dirt track I'd think we were back at the Costa Mesa fairgrounds watching 500cc speedway bikes go left! 
All the guys from Southern California came out to support their friend Kyosuke whose panhead was in the show. As many know, the older you become the harder it seems to get out on a whim, so seeing all this support in person - especially support coming from a place like "sunny California" - is really something special. Kyosuke (or K for short) hails from Japan and has now made California a home by making a family for himself that consists of close friends and old Harleys. It's quite different in California than Japan. One thing that stuck with me in our conversations was the differing amount of work space in both places and how it changes your involvement with motorcycles. With little space in the part of Japan K was living, the accessibility of him being able to make choppers was limiting, in that he couldn't feasibly build a panhead like he had done in his garage in California unless he owned a shop. Well, I'm pretty certain K doesn't sleep on opportunities… and am somewhat unsure whether he sleeps or not in general… because he's made quite a bit of cool scoots and good friends in California in his short time living there. Heck, K's friends not only supported their buddy by flying half-way across the country - they even supported his bike while they were there too!
Supporting people you care about doesn't always mean showing up in person. For example, one bike I was eager to see at the show was Ken Carvajal's knucklehead. The reason being - the pinstriped tins by his teenage son. Although Ken's son wasn't in attendance, his work was. The thin off-white lines framing the crusty black tear-drop shaped split tanks lead the eye to the fender. It's almost as if the pinstripe on the tank is the first part of a statement and in one sweeping motion the line draws the eye towards the fender to complete the thought. Spots of mustard induced rust mingle with the one pinstripe on the fender to bookend the idea and incite the feeling that the bike is constantly moving forward. Just as the pinstripes support the feeling of a bike in motion, the fact that it was Ken's only son who kept a steady hand and laid down a set of lines adds an unseen, yet felt, element to the bike. Definitely stoked I got to see the bike in person and have Ken and his wife tell me about some of the rewarding aspects of the parent life that I know little of!
There's also the yet-to-be friends that I meet through motorcycles at Mama Tried. Sometimes the conversation starts out next to the bike, asking questions such as, "is that a k-model oil tank" or "how does it ride with that rake" or even to vendors, "wow, do you get a bathroom break or what?" In these ways where creativity is on display, it invites and encourages conversations between enthusiasts who would be strangers if there wasn't an event like Mama Tried. Additionally, it allows the opportunity to put an actual face and handshake to the Instagram handles which seem to have become interwoven into the social fabric of motorcycle scenes. By the countless smiles, laughs, hugs, and storytelling circles seen and heard at the Eagles Ballroom, it appears as though likes and followers are still second to the real deal happening at Mama Tried.
Words by Cody Boukather
Photos by Cody Boukather and Ken Carvajal
---