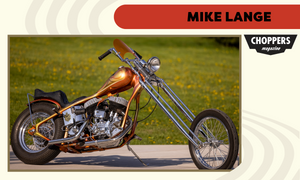 Choppers Magazine - Mike Lange "Timetrip"
Mike Lange's life-long fascination with and dedication to motorcycles started early — he was just four or five years old when he got himself bit by the bug.
"It was in my blood," he says, also noting that he was the only one in his family who had any interest in two-wheeled machines at the time. Sometimes, you just know.
When Lange was 15, drawn to the drag bikes and Harley's outside John Heidt's indie shop, he stopped in and cut a deal with Heidt for this 48 UL flathead.
"John couldn't sell the bike to me because I was only 15, so he sold it to my mom and I paid for it — like,  12 bucks a week — until it was finally mine," Lange recalls.
No shit. Twelve bucks a week.
The good ol' days, right?
Anyway, Lange built this bike the old way. Heidt would become his first-ever mentor in the motorcycle world, but Lange tore it apart himself, raked the frame and cut all the extra weight off at his local high school's shop class, rebuilt the engine himself, wired it up and, at 17, after barely graduating high school, he rolled it out to California and back.
The bike went through two more iterations before Lange hit a car with it, bent up one of 24 over forks and then took the bike apart and left it in storage — for nearly half a century.
"My buddies have been telling me forever that I need to get it back together," he says. "And this past November, I finally hauled it out."
Lange's UL is a true survivor. The motor'd been sitting on a stand for a little over 40 years, so he tore it down and freshened it up, being careful to keep the original fixin's and finishings in place before throwing it back in its original frame.
It's guided by the same 24 over Harley springer Lange wrecked on in '70s, and the ship's helm is a set of off-the-shelf Z bars from the same era, covered by an orange windscreen, also made by Lange.
Leading up to the bike's last iteration before being torn down and forgotten in storage, Lange added some more molding to help contour the king & queen seat and sissy bar out back, as well as tossed a foot clutch on it with a slapstick.
And before you ask, yeah — that's actually the OG '70s paint, chrome, molding, etc. Turns out, the old adage still rings true: Old is gold.
— Choppers Magazine
Story by Choppers Magazine
Photos by Josh Kurpius
---