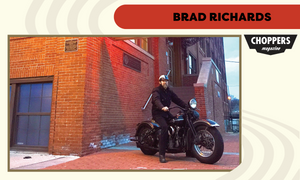 Choppers Magazine - Brad Richards
Talking Choppers with Brad Richards
VP of Design, Harley-Davidson
Brad Richards is Harley-Davidson's Vice President, Design. In other words, he's sorta the guy. He and his team gave us the new Low Rider S, they lit the internet on fire with the Softail Dyna re-design and yes, they're the ones who green-lit that new Sportster exhaust that everyone won't stop laughing at. 
But he's also a rider's designer. You may remember his Born Free 6 bike from a few years back, a '58 panhead known affectionately as the "Papa Glide," which he and his collaborator, Ry Seidler, built for the show. And it doesn't stop there. 
We sat down with Richards to talk a little bit about his bikes, but y'all already know we had to ask some Harley design nerd questions, too.
Choppers Magazine: Okay, let's just get right to the elephant in the room… What in God's name did y'all do to that poor Sportster S exhaust? 
Brad Richards: Ha! Well, first of all, designs evolve from a lot of things and that exhaust came directly from the XR750 flat tracker. 
But after we create the original sketch of the motorcycle, we have to go through a lot of discussions regarding feasibility and meeting regulations like global environmental standards. 
That exhaust is the shape it is in order to pass all the global regulations, meet our performance goals and keep it clean as possible for the environment. A lot of it can be out of our hands — especially with exhausts. 
We would have preferred something slightly smaller, but in order to sell Sportster S all over the world and be a good samaritan to the environment, that's what drove us to that design. 
CM: But does it perform? 
BR: Yeah, it definitely hits all the performance targets that we had for the Sportster S. It's an amazingly capable bike and we can't make enough of them. 
But that's the designer's challenge — keeping everybody happy. Those two end cones are as big as they are because that's where all the pollution control technology is. 
Trying to keep the bike running clean while also performing and looking good is tricky. 
CM: Okay, okay. Sorry. We just needed to get that out of the way. Before we hop into the bike stuff, tell us what you do at the MoCo., Brad. 
BR: Basically, I have the same responsibilities that Willie G had. I'm in charge of the team that designs the motorcycles.
Our Design Team consists of creative designers, digital & physical sculptors, fabricators, and technical operations staff who keep the whole department running — the left brain to the creative folks' right brain. It takes a little army to do what we do, and we have the best crew I've ever worked with doing it. I'm really proud of them. 
I also need to add that although it's easy to simply focus on the physical design of the bikes, it takes a massive team of hardworking heroes from around the world to bring a motorcycle to life. My department is a very small part of the machine. 
CM: As one of the key people in charge of keeping Harley's designs fresh and innovative, what keeps calling you back to choppers and other old bikes? 
BR: Choppers are just the purest form of self-expression in motorcycles. 
You can tell so much about someone by the kind of bike they've built. What kind of parts they used, what kind of style they have incorporated into the build. All the decisions and little details that go into building a bike says a lot about the person who's built it. 
I love all that, and I think my team does too. Every chopper tells a story. It really inspires all of us even if what we're working on isn't a chopper. But choppers are very close to my heart. 
Plus, part of our job is really getting out there to see where we're going next with our motorcycles. 
CM: That's another interesting thing to us. As you guys try to keep things innovative, where are you guys finding inspiration? 
BR: I think so much of it is watching what customers are doing from the customization standpoint. And we look at that and see where the conversation goes. 
The 2016.5 Low Rider S is a perfect example. We walked out, saw some stuff in the parking lot at Born Free in 2014 and said, "Yeah, this evolution centered around performance makes perfect sense." 
It was the next generation reacting to the current generation who embraced profiling for profiling's sake. Functionality & dynamic performance had suddenly become what was valued and celebrated.
We could redefine the air-cooled pushrod V-twin experience by dialing up the performance aspects of it. Better brakes, lean angle, rider triangle — make it more upright and aggressive. 
We saw that ALL out in California, riffed on that and came up with that particular bike. It's now the best-selling Softail we have.
CM: This whole issue is actually centered around Milwaukee ahead of the Mama Tried show in a few weeks. Why do you think shows like these are important to the modern Harley brand?
BR: What we love about shows like Mama Tried, Fuel Cleveland, Born Free and, of course, the Virginia City Roundup, is that they bring out a slightly different demographic than what we typically see at the larger/traditional shows and rallies like Daytona, Sturgis & Faaker See. 
We find it easier to spot trends and shifts in taste at the smaller regional shows. We then go to Sturgis & Daytona every year as well to see what is translating from the shows like Born Free, Mama Tried and the VCR. 
When I think about the younger H-D enthusiasts who attend and build bikes for these shows, some of them are embracing the archetypical Harley brand and lifestyle even more than their predecessors — in what they wear, what they're saying, how they're embracing the lifestyle and with what they're riding.
Those events are absolutely critical to the success of Harley-Davidson, and we're stoked on them.
Plus, it's good to be able to come together as a group and see what everybody's doing. Especially in these times — everybody's spent so much time locked inside because of the pandemic. 
CM: I think we all definitely see that the MoCo. still draws pretty heavily today on the lifestyle and culture that made Harley what it was decades ago. Does Harley intend on throwing its hat in the ring and taking a more hands-on approach to keeping that spirit alive? Like, maybe swap meets or more events for us chopper nerds?
BR: It's something that we've talked about in the past and recently. Let's start with the events — H-D has been a major sponsor of most of the contemporary chopper shows like Born Free, Mama Tried & Oily Souls for years. 
Regarding the older bikes Jochen (Zeitz) our CEO, owns and rides older Harley's. He has a shovelhead and a couple panhead choppers, he's really into it and appreciates it. 
We've discussed the difficulty in finding quality parts to maintain them. I think there's something there, and over the years, we've slowly sort of disconnected ourselves from that part of our culture. We'd love to change that.
Like, one of my favorite things about the brand is swap meets. Going and seeing the folks that are passionate about vintage Harleys — choppers and stockers. I believe it's where the brands secret sauce exists. I've been going to Wauseon and Davenport for over 20 years. Nothing like packing a tent on your chopper and heading to Wauseon for the long weekend — it's my favorite weekend of the year. 
But if you think about the modern Harley brand showing up there, you don't really see that. This is something I'm really passionate about and I know Jochen is getting really passionate about it too. So, I will leave it at that for now... 
CM: Alright, enough shop. Let's talk bikes. You literally have like, a dozen Harleys, right?
BR: Haha, yeah, I actually have 14 in my garage. Three or four panheads, a shovelhead, a knucklehead, a couple Sportsters, two Low Riders, and a couple factory H-D race bikes — a WR and a KR that I vintage race with Warren and Scott and their great crew in Milwaukee. 
CM: Jesus. Which one have you laid the most miles down on?
BR: Definitely my red shovelhead. It was originally built by a real good friend of mine out in Rapid City, South Dakota, Dave Price. 
I bought it when it was a pure show bike and over the last 10 years i've transformed it into the perfect chopper for me. I'm guessing I've put at least 40k on that bike. maybe more. Had some great times riding with my friends all over the country on that bike. I love it
CM: Everybody's seen the "Papa Glide" by now, but what was the story behind that? 
BR: I designed that bike for Born Free 6 for my friend Greg Grahola. He's the senior service manager at Motor City Harley-Davidson in Detroit. Greg is one of those guys who'll give you the shirt off his back. He's an absolute gem of a friend and an extremely passionate biker — always has been. 
Ry and I built that for Greg because he's always the guy kindly working on everyone else's bikes while his own projects stand still, so we wanted to return the favor. 
He had a panhead basket just sitting there, so when Mike and Grant invited us to Born Free 6, we thought it was the perfect opportunity to thank a friend for all he's done for us. 
We told Greg about the invite and our idea of using his basket and he gave Ry and I free rein. We knew he was also into vintage cafe racers and square case Ducatis, so it had to have a more sporty vibe — hence the fast lines. 
We also wanted to make sure there were some unique design elements we had never seen before, so we frenched the hand shifter into the tank. We also did our version of a modern H-D LED headlamp nacelle so it had a fresh "face." 
The oil bag, tail section, seat and all controls were made from scratch as well. The 22-inch front tire was originally a knobby that I spent a week shaving down to a slick. Not fun work, but it was for the best guy we know, so it had to be done. Greg loves the bike and still rides the wheels off it.
CM: It really is a killer of a bike. So, what's the next build? Are you working on anything? Have anything we should be looking out for?
BR: I'm actually doing the final run-in & tweaks on a 62FL chopper I just completed (after eight years!). So, my spare chopper time has been spent dialing that bike in. 
But I already have the next one up on the bench — a 1939 ULH. I love big twin flatheads and this one is special because it was my first Harley many years ago. I've ridden it almost as much as my shovel, so it's time for a visual refresh and I'm going to rebuild it as a more traditional '60s chopper — I originally built it in that space between chopper & bobber. The motor has been re-built, so now it's time for the fun stuff — color, stance and proportions. 
CM: Alright, we know you're a busy dude with shit to do, so there's only one more question we need to ask. What's the deal with Jason Momoa? Is he actually riding those knuckleheads, or is he just looking pretty on 'em? 
BR: Haha! I only know what everyone else sees. Looks to me like he's a guy who is totally stoked on old Harley's (and new ones) just like us all. 
I have yet to meet Jason personally, but know a lot of the MC crew he's been hanging with and I have heard nothing but good things about him. 
So, until then, I give him the benefit of the doubt and hope to meet and ride with him one day to see for myself. Anyone who shows that much support and love for our brand is okay in my book.
— Choppers Magazine
Story by Choppers Magazine
Photos Provided by Brad Richards
---