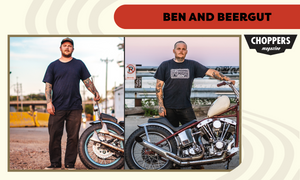 Choppers Magazine - Ben and Beergut
In 2015, I stumbled across my first motorcycle show, Mama Tried, in Milwaukee. After that show, I realized I wanted a bike of my own. I saved up enough money and bought a '99 Sportster 1200 from my buddy. I rode that for the remainder of the year until winter hit and then decided I wanted to make it my own. I took it down to the frame and redid it. While working on that bike, I realized there was more to it than just owning a motorcycle. It came with a community of really cool people that I've learned a lot from and continue to learn from still today. 
I am currently riding a '77 Shovelhead that my buddy, Chris Simpson, owner of Sweet Leaf Garage, built for me. While owning this bike, I've changed up a few things: the handlebars, risers, and a new tank. I replaced the cow pie tranny that it came with for a four-speed ratchet top. Owning this bike has been a lot of fun seeing that it's been a challenge for me each and every day. I'm excited to see what's in store for me next.
—Ben Dosmann
Mike Beergut
1976 Stroker Shovelhead
In 2017, I moved from Chicago to Milwaukee, I had just finished my first "chopper" and was eager to get out and ride. When I moved here, I met some great people who've helped me become better and better at what I love to do. With the help from some great friends here in Milwaukee I built this '76 stroker shovel. From sifting through bins at Jr's cycle products to sleepless nights in the garage. It was a really good learning experience for me and I am excited to showcase my skills in the future.
—Mike "Beergut" Casto
Photos by Jeff Klugiewicz
---