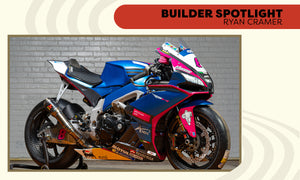 Builder Spotlight - Ryan Cramer
We thought it would be fun to ask our builders to answer some questions so we can get to know them a bit better. Below you will find their un-edited responses & some photos that represent them and their work/life.. Show these folks some love!! Say hello when you see them in the crowd at the Show!
Name: Ryan Cramer
Nickname:
Name Of Shop/Business/Nickname (If you don't have one, type NONE): Tourist Trophy Detroit
Instagram : @touristtrophydetroit
Website Address (Type NONE if you don't have one: None
Email Address: rcrameremu@gmail.com
What's your daily rider? And Why? Any mods you have planned for it in-the future?
RSV4, all available mods are on the bike
What bikes do you currently own?
Aprilia RSV4 World Superbike, 1994 Honda CBR900RR resto mod
Favorite part you have ever used, fabricated or bought?
Aluminum hand built Aprilia Racing swingarm
Best Track you have ever Raced on? Why?
Pitt Race
Podcast Suggestions? What are you listening to these days?
Nothing this crowd will want to listen to lol.
Is there anything you are working on currently that you're excited about? Does not have to be a motorcycle. House project? Jumps in the backyard for the kid? TreeHouse? Custom Chopper? Custom Meat Smoker?
Designing and building a Passive Contemporary Industrial house with a 1650 square foot walk out basement garage/man cave for my bikes and my dad's '65 Galaxie 500.
Best Experience at a motorcycle event? Which Event? (Please don't feel like you have to say MT/FOF. This is not about that!)
Isle of Man TT, riding 5 laps around the course.
Rank your TOP Motorcycle activities. Street? Bar-Hopping? Flat Track Racing? Single Track? FMX? Ice Racing? Looking cool in front of the ladies and or gentleman? (Choices not limited to these suggestions)
Racing, building, attending events of all kinds
What is your earliest memory related to motorcycles? Or what was your first moto/mini bike? Do you still have it?
8 years old, 1972 Yamaha 70cc trail bike. I've been hooked ever since.
Is there any questions we have not asked yet that you have been dying to answer?? Now is your time to shine. Let us have it.
I'm good.
Best Motorcycle Crash? Good or Bad? Still riding afterwards?
Little Talley, WERA opener 2021- some asshole went out with a faulty quickshifter and nearly killed me and another rider. First race of the season, first race of the weekend, 2nd lap in Expert F1. We were pinned in 3rd coming out of turn 1 and I hit the knocked out rider's GSXR1000 belly pan and was ejected at over 100mph. I front flipped and landed about 200 ft from the crash and thankfully I didn't slice the other rider in half as I was heading right towards him. I totaled my first RSV4 World Superbike and the bike you see at the show is the 2nd rebuilt version using what I could salvage from that crash. The lesson learned, don't be that asshole that thinks his club racing results are more important than other people's lives. This rider knew he had a problem from the previous day and still went out and raced and nearly killed 2 people and caused thousands in damages for 2 other riders. Fuck that guy. Don't be that guy.
How did you get started fabricating/painting/building/collecting?
When I heavily modified my first race bike with a front end swap and custom fabrication to fit other wheels. Been hooked ever since.
If you could invite a Builder/Bike to Mama Tried, who would that be?
Kris Keen's RSV4 World Superbike spec, his is even more radical than mine. But he's in Australia.
What other stuff influences you? Books, architecture, cooking, painting, hot rods, movies, etc?
Architecture and Music.
If you could travel to any country, where would you go and why? (This could be a place you've already been)
Antarctica and Asia are next for me. That will give me all 7 continents and nearly 50 countries so far. We're here for a good time, not a long time.
If you had 6 months where you didn't have to worry about financial, professional or personal obligations, what would you want to do with that time?
Take my daughter to see the world.
Favorite book that comes to mind?
Any books about the Britten V1000 or John Britten.
If you had an unlimited budget, what bike would you buy/build?
A Moto GP bike.
What's your most memorable road trip and why? And what's an item you always bring?
Train ride from Casablanca, Morocco to Marrakesh with my friends. I always have my Woolrich/Topo backpack on every trip.
Favorite Restaurant? Why?
Imperial in Ferndale, Michigan or Takoi in Detroit, Michigan.
Favorite sandwich?
A good fuckin cheeseburger.
Any Brand Loyalty when it comes to motorcycles? Or do you operate ur collection like a Swiss Army Knife? Please Explain.
Aprilia first and foremost.
3 favorite bands (off the top of your head)?
Pearl Jam, Rammstein, David Bowie
Anyone to Thank, give props, talk shit or say hello to?
My mom and dad of course.
---