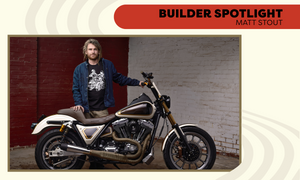 Builder Spotlight - Matt Stout
We thought it would be fun to ask our builders to answer some questions so we can get to know them a bit better. Below you will find their un-edited responses & some photos that represent them and their work/life.. Show these folks some love!! Say hello when you see them in the crowd at the Show!
Name: Matt Stout
Nickname: Matt "Stunt"
Instagram: @Matt_Stunt
Let's start with the easy questions!
What's your daily rider? And Why? Any mods you have planned for it in-the future?
Daily rider is a 1993 Harley FXR. Not show quality but a good mile smasher. Suspension upgrades and my favorite handlebar setup makes it just right for the daily. Parking lot dust, rain and small oil leaks look good on her.
Best Track you have ever Raced on? Why?
Black Track - Bethlehem, PA - If ya know ya know
Are there any questions we have not asked yet that you have been dying to answer?? Now is your time to shine. Let us have it.
In 5th grade I got kicked out of Catholic school for giving a kid a swirly.
Is there anything you are working on currently that you're excited about? Does not have to be a motorcycle. House project? Jumps in the backyard for the kid? TreeHouse? Custom Chopper? Custom Meat Smoker?
I am in the process of designing and legitimately manufacturing mini bikes. The FOF and Milwaukee scene overall has sparked this endeavor and since I cant do anything "normal"... Here I am on the second prototype, beating every detail to death of what will make an excellent, race oriented mini bike. Keep an eye out for us at FOF and the Boonie Bike World Series 2022.
What bikes do you currently own?
Where should I start?
What is your earliest memory related to motorcycles? Or what was your first moto/mini bike? Do you still have it?
My first bike was a Suzuki JR50, at age 3 I quickly learned what whisky throttle was but luckily didn't wreck immediately. My sister however, whisked directly into the deck behind the house. She scratched the fender and I was pissed.. oh the good old days.
Favorite part you have ever used, fabricated or bought?
This has to be the complete springer frontend that I built from scratch for my first chopper. I built this before I had any real equipment. Cut the trees out of raw steel with a grinder and a hole saw. I used hardware store bushings, a spring kit from J&P cycles and some DOM tubing that I could barely afford at the time. Few thousand miles on that unit, my god it freakin worked.
Best Experience at a motorcycle event? Which Event?
(Please don't feel like you have to say MT/FOF. This is not about that!)
Too many memories to pick a favorite.
Best Motorcycle Crash? Good or Bad? Still riding afterwards?
Jumped my CR250 directly into a retention pond at a coal mine. Bad part was the bike needed to be taken apart immediately. Good part was it ran better with a clean carb and air filter.
Rank your TOP Motorcycle activities. Street? Bar-Hopping? Flat Track Racing? Single Track? FMX? Ice Racing? Looking cool in front of the ladies and or gentleman?
(Choices not limited to these suggestions)
Road Tripping, Mini Bike riding, Stunt riding, Trail riding, and of course scooters!!
If you could invite a Builder/Bike to Mama Tried, who would that be?
Jeff Wright's S&S Anniversary Shovelhead
What other stuff influences you? Books, architecture, cooking, painting, hot rods, movies, etc?
I love maps and puzzles. Sprint car racing does not suck. Freestyle skiing is cooler than snowboarding.
If you could travel to any country, where would you go and why?
(This could be a place you've already been)
Probably Chile
If you had 6 months where you didn't have to worry about financial, professional or personal obligations, what would you want to do with that time?
6 month motorcycle adventure. The plan is... there is no plan, except for tacos, they better have tacos.
Favorite book that comes to mind?
Wish I could read lol....But I can solve a Rubik's cube in about 2 minutes.
If you had an unlimited budget, what bike would you buy/build?
Hardest question yet!
What's your most memorable road trip and why? And what's an item you always bring?
Back roads from Tennessee to Pennsylvania without navigation and without touching the highways. Curves and hills and curves and hills. Cant go on a trip without my collapsible cot.
Favorite sandwich?
Do they have tacos?
3 favorite bands (off the top of your head)?
Taylor Swift(believe it or not), The rolling stones, MGK (at the moment)
Show Bike Basics:
Year: 1988
Make: Harley-Davidson
Model: Twin Cam EFI FXR
People you want to thank:
My late father for everything he taught me. My girlfriend for believing in me and putting up with my untamable energy, thanks babe. My mom, the rest of my family and every single person I've met who shares enthusiasm to keep our passion alive.
---