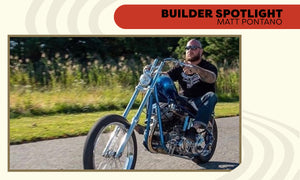 Builder Spotlight - Matt Potano
We thought it would be fun to ask our builders to answer some questions so we can get to know them a bit better. Below you will find their un-edited responses & some photos that represent them and their work/life. Show these folks some love!! Say hello when you see them in the crowd at the show!
Name: Matt Pontano
Name Of Shop/Business/Nickname (If you don't have one, type NONE):
Timeless Cycles
Instagram : @matt_pontano

Website Address (Type NONE if you don't have one: None
Email Address: mattprules@yahoo.com
What's your daily rider? And Why? Any mods you have planned for it in-the future?
My daily rider is my 61 flh Panhead chopper. Built this bike in 2014. Right after my son was born and have been riding it daily ever since.
What bikes do you currently own?
61 Panhead chopper, 45 magnum long bike chopper, 1936 VL performance chopper
Favorite part you have ever used, fabricated or bought?
Favorite thing I have ever fabricated was the engine for my 45 magnum.
Best Track you have ever Raced on? Why?
I haven't raced anything besides dirt bikes and the last time I raced was before I had any children 13 years ago.
Podcast Suggestions? What are you listening to these days?
I'm not much of a podcast guy
Is there anything you are working on currently that you're excited about? Does not have to be a motorcycle. House project? Jumps in the backyard for the kid? TreeHouse? Custom Chopper? Custom Meat Smoker?
I've taken a brake from building any bikes so I could focus on my current boat project and getting some things done around the house to keep Mrs. Timeless Cycles happy.
Best Experience at a motorcycle event? Which Event? (Please don't feel like you have to say MT/FOF. This is not about that!)
My best experience so far on a motorcycle has been riding to a local jersey event years ago on my Panhead along side my brother. Everything that could have went wrong with my bike did but we were able to get everything half ass fixed to continue on with the weekend and make the best of it.
Rank your TOP Motorcycle activities. Street? Bar-Hopping? Flat Track Racing? Single Track? FMX? Ice Racing? Looking cool in front of the ladies and or gentleman? (Choices not limited to these suggestions)
My favorite thing and top of the list is just bar hopping. Long rides are fun but I enjoy stopping at local bars or bar hopping on long getaways to connect and talk to with people around the area.
What is your earliest memory related to motorcycles? Or what was your first moto/mini bike? Do you still have it?
My earliest memories of bikes is watching my father and his friends riding and wrenching on their rides as I ripped around on my PW50 thinking I was the coolest kid in town.
Is there any questions we have not asked yet that you have been dying to answer?? Now is your time to shine. Let us have it.
Nothing
Best Motorcycle Crash? Good or Bad? Still riding afterwards?
Best crash I've had was on a 66 Ironhead, I was a rookie and mounted my bar bag at the bottom of the frame with a a 4" under springer. Hit a good size pot hole and the bar bag sucked up into the front end and got wrapped up in the front wheel, went down hard and received some pretty serious road rash.
How did you get started fabricating/painting/building/collecting?
I got my start building for bikes as a kid and slowly progressed up to road bikes as I got older. My father played a giant part in all of It.
If you could invite a Builder/Bike to Mama Tried, who would that be?
I don't personally think I would pick any specific builder. I appreciate all types of builds whether it's my own personal style or not.
What other stuff influences you? Books, architecture, cooking, painting, hot rods, movies, etc?
I like everyone else these days has pulled a lot of influence from IG. Besides that I enjoy seeing pictures and features from old magazines.
If you could travel to any country, where would you go and why? (This could be a place you've already been)
I haven't had a desire to travel anywhere recently.
If you had 6 months where you didn't have to worry about financial, professional or personal obligations, what would you want to do with that time?
I would choose to stay home with my wife and kids. Work, school and life gets in the way of being able to enjoy life and I feel like I have missed a ton of that because of work and hobbies.
Favorite book that comes to mind?
Possum Living
If you had an unlimited budget, what bike would you buy/build?
I think If I had an unlimited budget I would build a very practical bike. I'm sure most people would say a Knucklehead or Panhead; but I would want to build a very rider friendly relatable Shovelhead or Evo based bike. The best part of riding is being able to get down and go wherever you want, not having to worry about any issues, with either of those power plants I feel like you could have a very practical mile munching machine.
What's your most memorable road trip and why? And what's an item you always bring?
My most memorable road trip has been traveling across country with my wife to the Sturgis rally from New Jersey.
Favorite Restaurant? Why?
Any burger joint is always top of the list.
Favorite sandwich?
Cheeseburger
Any Brand Loyalty when it comes to motorcycles? Or do you operate ur collection like a Swiss Army Knife? Please Explain.
I used to think that if you weren't on a certain type of bike then you weren't cool, it took some convincing from my wife, but come to realize that no matter what you are on as long as you are riding and having fun then that is all that really matters. Just because it isn't my style doesn't mean that it isn't someone else's.
3 favorite bands (off the top of your head)?
Saves the Day, Varials, Rebelution
Anyone to Thank, give props, talk shit or say hello to?
My wife Jessica, and my father for putting his foot up my ass as a kid and making me work for everything I have.
---