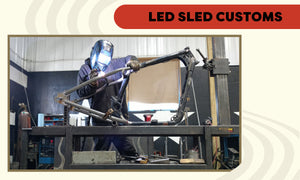 Builder Spotlight: Led Sled Customs
Lead Sled Customs
Website: LedSledCustoms.com
Instagram: @ledsledcustoms
Address: 4931 Upper Valley Rd, Dayton, OH 45424
Though Led Sled was established as a company in 2003, the idea started well before. In the mid 90s owner and proprietor, Pat Patterson, found a love for painting. From free hand pinstriping to full paint jobs on gas tanks the idea of customizing anything was possible. This mentality gained momentum and has been going full speed ever since.
With a love for Sportsters, Speed and Precision Pat focused on what was next: Custom Choppers. If there wasn't a piece made for a bike, he'd fabricate it. If there wasn't a part made, he'd invent it. Then produce it. Then sell it to the masses.
Over 20 years has passed, and the Led Sled name has been a part of the evolution of custom choppers ever since. From kickers to springers, invaders to fenders, from full builds to floorboards, there are handcrafted motorcycles representing this Dayton, Ohio based shop all around the world.
Invader
The Invader wheel has been a staple in the motorcycle world since the 1970's but they became a part of the Led Sled catalogue around 2016 and have been a staple ever since.
A close friend had been making these boss wheels rather locally in Columbus, Ohio for decades and when asked to carry the torch, Pat took pride in learning the ways of the wheel. When he found out that they were slowly going to be laying their craft to rest, Pat shadowed and studied and mastered the art of The Invader.
Carrying the knowledge and passion that came with this tradition has been an inspiration ever since. The quality has never changed and The Invader now lives on through Led Sled Customs.
The Kicker
The Kicker started out as more of a desire from Pat Patterson, owner of Led Sled Customs, around 2003. This just so happened to be at the very beginning of Led Sled, so ideas were fresh and flowing. The first bike Pat built for himself was "Whiskey Bent." A garage-built Sportster with a divorce transmission that had a big twin 6 speed transmission behind it. Specifically machined for a 3.5 in. belt drive, this thing was just begging for a kick start. So, it got one.
During that build another idea began brewing in the back of Pat's mind…a kicker for an EVO Sportster. After a couple years of steeping on it and doing research here or there he figured "Okay, it's time to make this thing."
It was still in the early years of Led Sled so there wasn't much CNC equipment up for use around the shop. This prompted the decision to send out the job and have it machined out of house. Nearly two years goes by with a machinist that was not taking this job seriously. Dragging feet, trying to change things, etc. etc. Just not ideal and an overall waste of time. There was only one other option, and it has become the Led Sled way from there on out. Pat decided to just make it himself.
After about 2 hours of "Frankenstein-ing" parts from around the shop, Pat put together his first prototype. It worked. After solidifying the kit and getting it as simplified as possible, Pat got a hold of Andrew's (a company that makes main shafts) and started having them machine it out. And it has been like that ever since!
What started out as a personal "want" has now become a staple in the Led Sled history books and catalogue. With over 200 produced, backed with a lifetime guarantee AND distinctly numbered to set your kit apart, The Led Sled Kicker is here to stay.
---