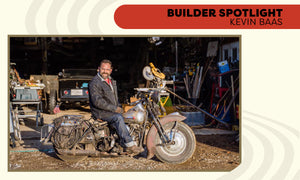 Builder Spotlight - Kevin "Teach" Baas
We thought it would be fun to ask our builders to answer some questions so we can get to know them a bit better. Below you will find their un-edited responses & some photos that represent them and their work/life.. Show these folks some love!! Say hello when you see them in the crowd at the Show! 
First Name:
Kevin "Teach"

Last Name:
Bass

Name Of Shop/Business/Nickname (If you don't have one, type NONE):
Vintage Bike addiction / Baas Metal Craft

Instagram Handle (Please use the @ symbol in front of it):
@kevinteachbaas

Website Address (Type NONE if you don't have one):
https://www.littlefishdesigns.net/

Favorite part you have ever used, fabricated or bought?:
My Baas Metal Craft Rippled Wheel covers

Best Track you have ever ridden on? Why?:
The Ice racing last winter by my house on Carl's Lake..aka. "Lake Nunya". The track was perfect, the atmosphere and temps were Rad and a bunch of vintage bikes and hot rods ripped the track.

Best Experience at a motorcycle event? Which Event? (Please don't feel like you have to say MT/FOF. This is not about that!):
Sturgis back in the Limpnickie Lot Days..nothing will ever beat that camaraderie and the crazy times. We ruled Sturgis those years.

Rank your TOP Motorcycle activities. Street? Bar-Hopping? Flat Track Racing? Single Track? FMX? Ice Racing? Looking cool in front of the ladies and or gentleman? (Choices not limited to these suggestions):
Vintage Bike racing, riding, jumping and sliding!

What is your earliest memory related to motorcycles?:
Or what was your first moto/mini bike? Do you still have it?:
I was so little my Dad and Mom put training wheels on the bike so I wouldn't fall over. I do believe my Dad still has it in his barn somewhere.

How did you get started fabricating/painting/building/collecting?:
Through the family tradition Ma and Pa Baas instilled in me.

If you could invite a Builder/Bike to Mama Tried, who would that be?:
Dylan Chartier....and his 1947 Knucklehead "Brownie"

What other stuff influences you? Books, architecture, cooking, painting, hot rods, movies, etc?:
Positive energy, Cold Beer, Brandy old fashions and Good Times.

If you could travel to any country, where would you go and why? (This could be a place you've already been):
Hawaii...never been but always wanted to check it out.

If you had 6 months where you didn't have to worry about financial, professional or personal obligations, what would you want to do with that time?:
Focus on my family and finishing off the Barn at Baas Acres for year round production.

Favorite book that comes to mind?:
Shop Class as Soulcraft

If you had an unlimited budget, what bike would you buy/build?:
Vincent Black Shadow, or a 1936 Knucklehead

What's your most memorable road trip and why? And what items do you always bring?:
The ride from Minnesota to California for Born Free 3 on my 1947 Knucklehead. It was an epic trip with great friends. The memories are priceless and the road goes on forever and the party never ends. I always bring spare spark plugs..ALWAYS!

Favorite sandwich?:
PB&J

3 favorite bands (off the top of your head)?:
Waylon Jennings, Sturgill Simpson, Whiskey Myers

Best Motorcycle Crash? Good or Bad? Still riding afterwards?:
Tore my ACL racing a mini bike at the Broken Spoke County line Sturgis during the Limpnickie Lot Shenanigans. I had to have surgery but still raising hell on all types of bikes.
"Hey all, Kevin Baas here.
I was asked by the Mama Tried founders to write something that sums up what my life has been like, surrounded by motorcycles. I could go on for days, but I'll do a quick summary.
I grew up in a motorcycle family...Mom rides, Dad rides, they had me riding back when I was still in diapers. My childhood memories were getting rides on Dad's shovel to the county fair or in the Panhead sidecar going to see fireworks. It made me who I am today. I graduated high school heading to College, and graduated from UW STOUT to be a Shop teacher.
My Dad gifted me an Ironhead basket case as a graduation present from College, and the journey began that first summer home building the bike with my pops.
Since I moved to Minnesota to teach, I made sure there was time to take a ride with pops every summer. We would take a 1,000-mile trip every summer, and that old ironhead lasted a couple of years until I blew it up on a ride back from the Bean Blossom Boogie in Indiana.
I eventually hauled the bike back to mn, and that winter, I was going to rebuild it. Well, it was so bitter cold that year, and with no heat in my shop, I decided to try something new and bring the bike to school to work on it with my students and teach them a little bit about vintage motorcycles. Little did I know that decision would change my life and the lives of many of my students! The project was a hit with the kids; the administration saw an increase in positive after-school energy, and the chopper class was born.
The following year I bought a 1957 Panhead basket case, and the project was once again done with the kids in class.
The bike started to gain some interest in the builder community, and we were invited to the Donnie Smith show. We created a High School Chopper class display, and the bike was displayed with the students there to talk about it and what they learned from working on the bike.
Later that year, we were invited to display it at the Horse Backstreet choppers Smoke Out rally. From there, connections were made, new lifelong friendships began, and the class started to make waves. Years later, after many bike builds, my career became something I could be proud of.
I have collected and built many vintage Harleys in my 48 years and took many adventures on the old iron.
The highlight of riding Vintage Harleys was when I made a cross country trip to California for Born Free 3 on my 1947 Knucklehead "Elvis" with Mama Tried founder Warren and other good friends Josh Arment JFB Scotty, Matt, and Jordan. We made the trip in a week, and after getting there and meeting the Born Free crew, I was invited to build a bike for Born Free 5. Again I made it a class project, and we ended up taking 1st Place in the Panhead division with a race-inspired dual carb 1952 Pan.
There were a lot of other great trips and shows throughout my life, Michael Lichter shows in Sturgis, Big Mountain runs, Milwaukee trips, and all sorts of mayhem in between.
I am always honored and blessed to be a part of what's happening in the bike industry and hope I can keep it up and pass the torch to my kids.
Thanks for all the support, and see you all in Milwaukee this March for Mama Tried!"
-Kevin "Teach Bass"
---