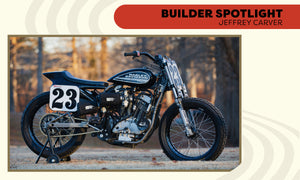 Builder Spotlight: Jeffery Carver
We thought it would be fun to ask our builders to answer some questions so we can get to know them a bit better. Below you will find their un-edited responses & some photos that represent them and their work/life. Show these folks some love!! Say hello when you see them in the crowd at the Show!
First Name
Jeffery "The Wizard"
Last Name
Carver
Name Of Shop/Business/Nickname (If you don't have one, type NONE)
Happy Trails Racing/ "The Wizard"
Instagram Handle (Please use the @ symbol in front of it)
@Jeffreycarver23 @happytrailsracing23
Website Address (Type NONE if you don't have one)
Happytrails23.com
Favorite part you have ever used, fabricated or bought?
What first pops into my mind is the tire groover. It is essential in the old school Flat Track world... You can check out all the cuts in the front and rear tire on my Woods Rotax at the Mama Tried Show! Like a hot iron, there is a wedge that is a width of 1/16th - 3/8th inch and a U-shaped razor blade that cuts rubber like butter.
Best Track you have ever ridden on? Why?
Springfield Illinois Mile.
The size and shape are symmetrical. corners and straight aways are a 1/4mile in length. There's no other flat track mile I've raced has that symmetry....and the dirt, well if you have racing in Illinois its the most hooked up and versatile with ever-changing track conditions.
Best Experience at a motorcycle event?  Which Event? (Please don't feel like you have to say MT/FOF. This is not about that!)
Good Wood Festival of Speed in England- I loved the combination of some of the most advanced and elite bikes and cars from around the world.
Rank your TOP Motorcycle activities. Street? Bar-Hopping? Flat Track Racing? Single Track? FMX? Ice Racing? Looking cool in front of the ladies and or gentleman? (Choices not limited to these suggestions)
Forever two wheels!
What is your earliest memory related to motorcycles?
No answer  
Or what was your first moto/mini bike? Do you still have it?
Earliest memory is riding my dad's 125cc Suzuki motocross bike around the back yard. taking off from it leaned against a picnic table. I had to be around the age 8. Suzuki-JR50
How did you get started fabricating/painting/building/collecting?
I grew up racing motorcycles since I was 5, so motorcycles are in my blood. In 2016 I bought my first twin cylinder flat track bike for the 2017 season, going into it as a solo privateer. I showed up in an econoline van and a Big A Chassis 700 Kawi ninja. When I bought the bike it was, let's say, a level C build. Over time, the 700 was overhauled into a 750, we relocated the shock mount to obtain more swing-arm angle, then increased the rake. Eventually chain guides and multiple cases and foot pegs were broken. I was building footpeg mounting plates out of Cardboard I glued together to get my plate thickness and cut it all to shape, foot pegs mounted and pass it to my mechanic Ben Evans at 1am and at 4am we would have a new mount put on for jumping the twins on the tt.
This is when I first felt connected to the art and love for flat track and the old school roots it still has; racing full custom built bikes in people's garages.
If you could invite a Builder/Bike to Mama Tried, who would that be?
Shop: Evolution Cycles
Best Motorcycle Crash? Good or Bad? Still riding afterwards?
The Best crashes, are the ones you ride out and don't crash but most definitely should have :P
What other stuff influences you? Books, architecture, cooking, painting, hot rods, movies, etc?
Lately I have felt inspired by doing self-development, healing and bringing a sense of connection and community. I Love people that are living and loving their life. Nature is one of my biggest teachers.
If you could travel to any country, where would you go and why? (This could be a place you've already been)
Egypt and the pyramids are on my bucket list.
If you had 6 months where you didn't have to worry about financial, professional or personal obligations, what would you want to do with that time?
Don't think, just do
Favorite book that comes to mind?
Siddartha
If you had an unlimited budget, what bike would you buy/build?
701 Husqvarna motor in a titanium/stainless steel tubed frame with a Ron Woods Linkage ratio built for flat track.
What's your most memorable road trip and why, and what items do you always bring on road trips?
Nepal Sideburn / Helmet Stories
Favorite sandwich?
Mac and cheese sandwich
3 favorite bands (off the top of your head)?
The Grateful Dead / Londrelle / Twiddle
---