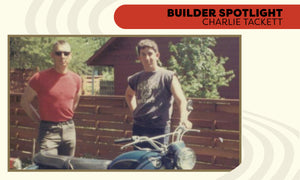 Builder Spotlight- Charlie Tackett
We thought it would be fun to ask our builders to answer some questions so we can get to know them a bit better. Below you will find their un-edited responses & some photos that represent them and their work/life.. Show these folks some love!! Say hello when you see them in the crowd at the Show!

First Name:
Charlie

Last Name:
Tackett

Name Of Shop/Business/Nickname (If you don't have one, type NONE):
Checkered Past Cycles

Instagram Handle (Please use the @ symbol in front of it):
@Checkeredpastcycles

Email Address:
tacquette@gmail.com

Favorite part you have ever used, fabricated or bought? :
Exhaust for a 1935 Zundapp DK200

Best Track you have ever ridden on? Why?:
Battle Creek Motorcycle club's scramble track. Why? The first track I ever raced on in 1965 as a 13 year old kid!

Best Experience at a motorcycle event? Which Event? (Please don't feel like you have to say MT/FOF. This is not about that!):
Cincinnati's Garage Brewed show, took first place in their Pro-Custom class with our Mongrel, an ATC250R converted to a motorcycle.
Rank your TOP Motorcycle activities. Street? Bar-Hopping? Flat Track Racing? Single Track? FMX? Ice Racing? Looking cool in front of the ladies and or gentleman? (Choices not limited to these suggestions):
Street, dual-sport riding, adventure bike riding, retired from racing 47 yrs ago, racing a bit of everything, scrambles, short track, enduro, cross country.
What is your earliest memory related to motorcycles?:
Or what was your first moto/mini bike? Do you still have it?:
Taking a new bike down into my parents' basement the first winter I had it and taking it all apart just to see how things worked on it. It was a 1965 Honda S65. It is sitting right here in our shop's showroom.

How did you get started fabricating/painting/building/collecting?:
When Racing you learned to fix things at the track. Plus not having the money as a broke teenager, had to learn how to do things myself.

If you could invite a Builder/Bike to Mama Tried, who would that be?:
My son Ted Tackett and his Mongrel

Best Motorcycle Crash? Good or Bad? Still riding afterwards?:
Cartwheeled a BSA 441 coming off a jump. Broken nose and a few bruises. That was 1968 and yes, I'm still riding, well over 100,000 miles since then!

What other stuff influences you? Books, architecture, cooking, painting, hot rods, movies, etc?:
Movies such as The World's Fastest Indian or On Any Sunday.

If you could travel to any country, where would you go and why? (This could be a place you've already been):
USA. So much of the country I haven't seen or experienced.

If you had 6 months where you didn't have to worry about financial, professional or personal obligations, what would you want to do with that time?:
Work on motorcycles. Spent more time at our camp in Northern Michigan and explore the backcountry dirt roads and two tracks on one of my bikes. Take a ride around the country and visit friends/relatives who live far away.

Favorite book that comes to mind?:
Lao tzu's TaoTeChing

If you had an unlimited budget, what bike would you buy/build?:
Vincent Black Shadow

What's your most memorable road trip and why? And what items do you always bring?:
Two-week ride with my oldest son on vintage bikes traveling on back roads thru the Blue Ridge mountains and Eastern Kentucky. Wanted to visit relatives who still lived up in a remote hollow on the land my ancestors first settled in 1819.
Favorite sandwich?:
Fried Spam with mayo and olives

3 favorite bands (off the top of your head)?:
Creedence Clearwater Revival, Buddy Holly and the Crickets, Bruce Springsteen and the E Street Band


---