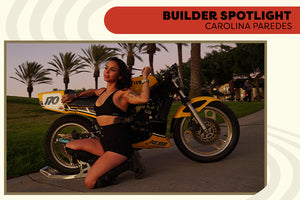 Builder Spotlight - Carolina Paredes
We thought it would be fun to ask our builders to answer some questions so we can get to know them a bit better. Below you will find their un-edited responses & some photos that represent them and their work/life. Show these folks some love!! Say hello when you see them in the crowd at the show!
Name: Carolina Paredes

Name Of Shop/Business/Nickname (If you don't have one, type NONE): MadebyCarolina
Instagram : @MadebyCarolina
Website Address (Type NONE if you don't have one: MadebyCarolina.com
Email Address: carolina@graphikos-mktg.com
What's your daily rider? And Why? Any mods you have planned for it in-the future?
2015 Harley XL1200 Sportster
What bikes do you currently own?
2015 Harley XL1200 Sportster
Favorite part you have ever used, fabricated or bought?
Change frames, built my trailer, getting better at welding
Best Track you have ever Raced on? Why?
ALL
Podcast Suggestions? What are you listening to these days?
Beyond the Throttle
Is there anything you are working on currently that you're excited about? Does not have to be a motorcycle. House project? Jumps in the backyard for the kid? TreeHouse? Custom Chopper? Custom Meat Smoker?
Getting my new shop ready for new tools and rebuild an old BSA
Best Experience at a motorcycle event? Which Event? (Please don't feel like you have to say MT/FOF. This is not about that!)
Riding to Sturgis from Texas
Rank your TOP Motorcycle activities. Street? Bar-Hopping? Flat Track Racing? Single Track? FMX? Ice Racing? Looking cool in front of the ladies and or gentleman? (Choices not limited to these suggestions)
Wrench
Ride
Travel
Eat Tacos
What is your earliest memory related to motorcycles? Or what was your first moto/mini bike? Do you still have it?
Riding quads at the ranch
Is there any questions we have not asked yet that you have been dying to answer?? Now is your time to shine. Let us have it.
Nope
Best Motorcycle Crash? Good or Bad? Still riding afterwards?
Good in Joshua Tree
How did you get started fabricating/painting/building/collecting?
Fixing my bikes
If you could invite a Builder/Bike to Mama Tried, who would that be?
Tim Harney
What other stuff influences you? Books, architecture, cooking, painting, hot rods, movies, etc?
Impressionism, documentaries and shop hangs
If you could travel to any country, where would you go and why? (This could be a place you've already been)
My bed
If you had 6 months where you didn't have to worry about financial, professional or personal obligations, what would you want to do with that time?
Wrench and build shit
Favorite book that comes to mind?
Catcher in the rye
If you had an unlimited budget, what bike would you buy/build?
All of them
What's your most memorable road trip and why? And what's an item you always bring?
Ride to dream roll and to Sturgis
Favorite Restaurant? Why?
Thai Vegan in Santa Monica because its delicious
Favorite sandwich?
Tacos
Any Brand Loyalty when it comes to motorcycles? Or do you operate your collection like a Swiss Army Knife? Please Explain.
Leatherman
3 favorite bands (off the top of your head)?
The clash, The weekend
Anyone to Thank, give props, talk shit or say hello to?
Nope
---