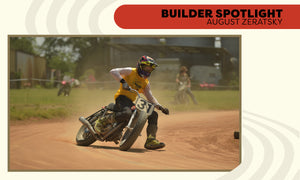 Builder Spotlight - August Zeratsky
We thought it would be fun to ask our builders to answer some questions so we can get to know them a bit better. Below you will find their un-edited responses & some photos that represent them and their work/life. Show these folks some love!! Say hello when you see them in the crowd at the Show!


First Name:
August

Last Name:
Zeratsky


Name Of Shop/Business/Nickname (If you don't have one, type NONE):
Rosie's Speed Shop

Instagram Handle (Please use the @ symbol in front of it):
@azeratsky


Website Address (Type NONE if you don't have one):
NONE

Best experience at a motorcycle event? Which event?
MX5000 in Reynolds, GA


Rank your TOP motorcycle activities. Street? Bar-Hopping? Flat Track Racing? Single Track? FMX? Ice Racing? Looking cool in front of the ladies and gentlemen?
Backyard pit bike racing, flat track, and motorcycles, in that order.
What's your earliest memory related to motorcycles?
My earliest memory was learning how to ride on a CT70. My first bike was a Honda XR100r. I don't own that bike anymore, but I have one that looks just like it.
Is there any questions that we have not yet asked that you have been dying to answer? Now's your chance.
None
Best motorcycle crash? Good or Bad
Riding over my friend Donovan's head. He was fine. Bad in the moment, funny in hindsight.
How did you get started fabricating/painting/building/collecting?
I was originally into the look of vintage Honda's and got into it that way. The need to fix and modify them to my tastes evolved my mechanic and fabrication skill. I keep amassing more of them because they're too cool.
What's your daily rider? And why?
RMZ250. Exhaust, wheels and pistons
Favorite part you have ever used, fabricated or bought?
The cut and de-raked frame on my first track bike.
Best track you have ever raced on? Why?
Atwater. The surface is always perfect!
Podcast suggestions?
The Last Podcast on The Left
Is there anything that you're working on currently that you're excited about?
A 1989 CR250r powered Bultaco Astro.
Any brand loyalty when it comes to motorcycles? Or do you operate ur collection like a Swiss Army Knife?
No Loyalty. I like them all. Although Hondas and Suzuki's usually interest me the most. 
Favorite Sandwich?
A Hook sandwich from Subco in Green Lakes, WI.
3 Favorite Bands?
Every Time I Die, ASG, Johnny Paycheck
Anyone to thank, give props, talk shit or say hello to?
Thanks to my girlfriend Karina, my parents, and the whole Bawang Gang.
What other stuff influences you?
Vintage auto racing, hot rods, fat track and motocross, skate and bmx style, and culture
If you could travel to any country, where would you go and why?
Japan. I'd love to check out their small Honda scene and ride some flat track.
If you had 6 months if you didn't have to worry about financial, professional or personal obligations, what would you want to do with that time?
Ride fat track and motocross every single day.
Favorite book that comes to mind?
The Anarchist Cookbook
If you had an unlimited budget, what bike would you buy/build?
A Knight framed XR600
What is your most memorable roadtrip and why?
Driving a 1980 VW Rabbit from Seattle all the way back to Wisconsin. I always bring an extra pair of Vans.
---