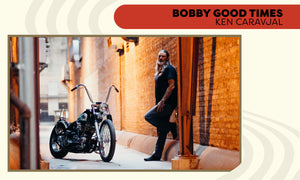 Bobby 'Good Times' Hultz
Many of us have likely associated various records of a band we enjoy with certain times of our life. Where Sabbath's Master of Reality, for me, encompasses the crass and juvenility associated with being teenager, Born Again with Ian Gillan on the mic signifies the open-mindedness of someone who can appreciate heavy jams despite Ozzy not being in the band. This is generally figurative for me, but for someone like Rob Hultz (Bobby Good Times) who toured with Black Sabbath, narrating his life through albums takes on a different meaning –so much so that even his shovelhead, Bark at the Moon, is a nod to the Ozzy classic.
To say that music and choppers are extensions of Rob doesn't fully capture how immersed he has become with the two crafts. Rob's long-term involvement with bands such as Godspeed, Solace, and Trouble have made him a fixture in various doom-metal scenes over the years. I've come to look forward to hanging out with Rob in his shop at Bravetown to not only see what he's working on, but to also get the inside scoop of what his experience was like playing shows with bands such as the Melvins, Crowbar, Orange Goblin, and Cathedral. Rob has been involved with choppers for close to three decades now and if you've attended any Mama Tried show, you've most likely seen one of Rob's choppers. In attendance at the first Mama Tried was Rob's chromed-out, white-pearl knucklehead called The White Wizard that he built with Bobby "The Leg" Middleton. Given all the partying Rob did when that bike was being built, it wouldn't be too far off to have dubbed the chopper Snowblind instead! Just like all of us, as we get older, gain more experience, and hopefully develop a more nuanced outlook on life, our bikes come to reflect such changes. Rob's addition of a flamed Wassell tank among other things to The White Wizard encapsulated this nuanced view – you could say that the bike was indeed Born Again.
Black Sabbath puns aside, Rob has since devoted his time to creating choppers for customers and making handlebars, risers, and sissy bars. Bobby Good Times Bars (or BGT Bars for short) has been bending some wicked handlebars that nod to popular bends of the '60s and '70s – yet do so in full Chicago heavy-metal fashion. Whether you are in the market for some comfy handlebars for your stocker, some radical apes for your chopper, or anything in between, make sure to check out Rob's work on Instagram (@bobbygt).
Story by Cody Boukather
Photos by Ken Carvajal
---